American Polar Society Luminary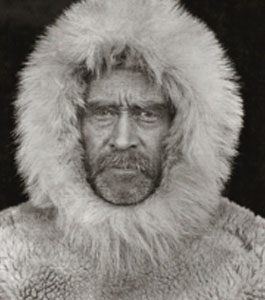 Admiral Robert E. Peary (1856-1920) was an American Navy officer and explorer who made several expeditions to the Arctic. He is credited—with substantial justification—for being, on April 6, 1909, the first person to reach the North Pole.
Peary was born in Pennsylvania but grew up in Maine where he graduated from Bowdoin College with a civil engineering degree in 1877. He joined the U.S. Navy in 1881 and was commissioned as a civil engineer, with the relative rank of lieutenant.
In 1886, Peary took a six-month leave from the Navy with the intention of becoming the first to cross the Greenland icecap. He had to turn back after 100 miles due to a shortage of supplies. In 1891, Peary returned to Greenland, this time with a well-organized and supplied expedition financed in part by the American Geographical Society. The goal was to determine if Greenland was a large land mass that extended all the way to the North Pole. Peary was first to conclude that Greenland was in fact a large island that did not extend to 90 degrees north.
It was on this second expedition that Peary was introduced to the native Inuit inhabitants of the Arctic. Impressed by their survival skills, he studied how they lived, hunted, and traveled in their icy domain. Peary adopted some of their practices such as building igloos during his expeditions and dressing in furs in the Eskimo fashion. He also enlisted the Inuit to hunt and drive his dog teams. Using the Inuit model, he pioneered the system of using support teams and building supply caches for Arctic travel.
In 1906, Peary ventured again into the Arctic. Supported by a $50,000 gift from George Crocker (youngest son of banker Charles Crocker), Peary bought a new ship, the SS Roosevelt, which successfully navigated the treacherous channel between Greenland and Ellesmere Island. Peary launched a dogsled trip across the Arctic ice and reported having reached a new farthest north world record of 87 degrees 6 minutes north.
On his final Arctic expedition, Peary sailed from New York on the SS Roosevelt in July 1908 with the objective of reaching the North Pole. He took 23 men with them and wintered over on Ellesmere Island. On February 28, 2009, Peary set out due north with his dog teams and sleds. The last support party turned back on April 1. On the final stage of the trip, Peary continued on with his African-American assistant Matthew Henson and four Inuit, and established Camp Jesup within 5 miles of the Pole on April 6.
Doubts were raised about his claim of reaching the North Pole due to the lack of detailed record-keeping on the trek. It was also noted that none of his five companions were capable of making celestial observations to substantiate Peary's calculations. Nevertheless, the National Geographic Society and the Naval Affairs Subcommittee of the U.S. House of Representatives acknowledged Peary's primacy at the Pole, a view supported by numerous modern analysts. Peary was promoted to the rank of Rear Admiral by a special act of Congress on March 11, 1911 retroactive to April 6, 1909.