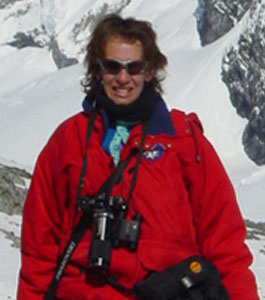 Denise Landau has managed to combine her love of natural history and expedition travel with a focus on environmental protection and education since 1982.  She has been actively involved in building bridges between the cruise tourism industry, governments and environmental groups for the last 30 years.  Previously she held the position as Executive Director of the International Association of Antarctica Tour Operators (IAATO) – an organization, which has set the highest environmental operating standards within a self regulatory regime anywhere in the world. The organization grew over 425% during her nine years of leadership.  Prior to taking on the lead position, she served IAATO on the Executive Committee for 7 years prior while working for previous expedition travel companies. She has represented IAATO as the head of its delegation and the spokesperson for the Antarctic Tourism industry at the annual Antarctic Treaty Consultative Meetings for 12 years and at numerous international meetings. She has been asked to speak at several ecotourism and scientific conferences and has published several papers regarding Antarctic tourism.  She had coordinated the activities through a multitude of techniques including an interactive web based process of over 100 travel companies from 15 countries, compiled environmental assessments and coordinated permits and documentation for ship visits to the Antarctic. As a result of her many years of work within the industry she was awarded a glacier to be named in her honor, located in the Antarctic Peninsula-the "Landau Glacier".
Prior to her leadership role with IAATO she has worked as a Director of Operations and Field Operations (formerly with Clipper Cruise Line and Quark Expeditions-8 years) and as an Environmental Consultant, Expedition Leader, Naturalist, Lecturer, Cruise Director and zodiac driver for several other companies within the tourism industry on board ship and land-based tour operators on all seven continents.  She's skillfully created computerized scheduling for small ship itineraries, land programs and has been involved in integrating expedition concepts and environmental guidelines into small ship cruise operations. Over many years she's managed and scheduled several hundred expedition staff members on over 15 expedition ships sailing worldwide. Prior to working with cruise and expedition ships she worked as a park ranger in Glacier Bay National Park (Alaska) and North Cascades National Park (Washington).
She has a Bachelor of Science in Field Natural History and Wildlife Biology from Michigan State University and has been able to combine her love for adventure, wildlife and wilderness and at the same time developing strategic management policies and working on a governmental level to implement such policies worldwide. Currently Denise owns an environmental consulting company and is also a Trustee for the South Georgia Heritage Trust.
Time permitting, Denise adores skiing and is a long-time certified ski instructor. She has taught downhill skiing in Aspen-Snowmass, Colorado, USA for 32 years. Whenever possible she also loves to bird, whale and wildlife watch, hike, bicycle, swim, kayak and Nordic ski.  Denise is married to avid –bird and wildlife specialist and tour leader-Dick Filby of "Rare Bird Alert" from the United Kingdom.  Dick and Denise live in both Colorado and England-pending the international nature of their work.