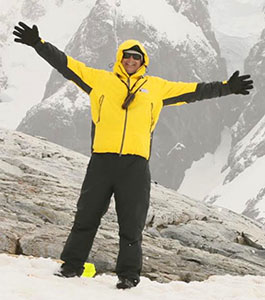 Charles H. Lagerbom was born in Corning, N.Y., but grew up in the wheat fields of Kansas. He received his BA in History from Kansas State University and his MA in History and Archaeology from the University of Maine, for his work on an American Revolutionary War truckhouse (trading post) along the banks of the Penobscot River. Charles spent two field seasons working in the Dry Valleys of Antarctica with a glacial geology research team from the University of Maine Quaternary Institute, now the Climate Change Institute. He is the author of The Fifth Man: The Life of H.R. Bowers (pub. Caedmon of Whitby, 1999), who accompanied Captain Robert Scott to the South Pole on the Terra Nova Expedition 1910-1912.
An avid book collector, Charles' passion for all things polar has led him to amass an extensive personal polar library of over 3500 titles. He has lectured on cruise ships and made presentations on the history, life, politics, and science of the Antarctic, including participation in the recent Scott centenary celebrations in Plymouth, England. He is immediate past president of the Antarctican Society, but still oversees the society's digital preservation project of members' polar archival material. Along these lines, he has also been involved in the establishment of a polar resource institute at the University of Maine campus.
As former Membership Chair for the American Polar Society, Charles has worked with a world-wide membership of nearly 1,000 members who share an affinity for the polar regions. He has edited the first installment of an Index to The Polar Times (the journal of the APS). He holds memberships in the New Zealand Antarctic Society, James Caird Society, Hakluyt Society, and Friends of Peary's Eagle Island.
He also holds lifetime memberships in the Old Antarctic Explorer's Association and the Frederick Cook Society, as well as the APS. Charles lives with his wife, Jennifer, and their two children on the coast in Northport, Maine, where he teaches history at the local high school. He can be contacted through LinkedIn or at clagerbom@nullrsu71.org